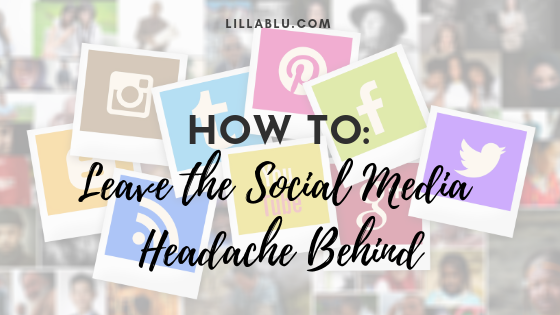 How to: Cure the Social Media Headache
One of the things I hear most often from small business owners and entrepreneurs is that social media gives them the biggest headache! Either they don't know how it works, don't have the time for it, or it feels like such a HUGE pressure – performance anxiety at its WORST!
You might be feeling this if…
You are the solopreneur who stares at your blank feed not knowing which picture to post, feeling like your pictures aren't good enough, and having no idea what to say.
You're a small business owner and full-time Mom who really can't spare two minutes to brush your hair, nevermind post a clever Instagram caption.
You are the B2B who knows that LinkedIn is your hotspot but just don't know how to reach your ideal client.
Here are a few ideas that can help you start down that path!
Keep it simple. Don't fret over some of the beautiful posts you see. Sometimes a solid background (in one of your brand colors, naturally) with some text on it can make the most impact.
Be consistent. Even if you can only post once a week it's better than not posting at all. And, with a lot of the programs that are now available to schedule your posts, you can set it up ahead of time to go out when you want.
Choose your social media platform wisely. There used to be a time when you had to be everywhere at once. That is not the case these days. You know where your peeps (or the peeps you want to have) are playing. Engage with them there. It will be more genuine and you'll be surprised at how much easier and more fun (yes…I said fun) it will be.
Ask questions. Deep down, we all want to help and share our knowledge. It's a natural human response. Want more engagement? Ask a question…take a poll…and don't forget to respond or at the very least like and/or thank those people who participate.
Like I mentioned above, having a social presence and posting consistently is important when it comes to being accountable to your audience and your team. Finding my team has been the secret sauce to help me be more consistent in my online presence.
Working with a team makes it SO much easier to actually get it done.
Missing that piece? That's where we can help!
We're here to remove a little of that pressure and let you know… we've got it! (Feels great already doesn't it?!).
We heard you, and let's be honest…we've been there, too! So we built these awesome packages to help you ditch the overwhelm and create an amazing online presence. And the best part??? You get to focus on creating and delivering the genius in your business. After all, that's where you shine brightest!
You do what you do best, and we'll help you be in the right place at the right time.
We will create awesome graphics using YOUR words and brilliance and set you up for great online engagement.
AND not only will we handle all things social media implementation, but some of our packages even include teaching and coaching you to be a social media boss. I mean, who doesn't like to know all the things…even if they don't DO the things?
To be TRULY successful we work as a team! Our teamwork is a combination of posts by us paired with your participation in LIVE and real content for you. BUT, without a ton of pressure because there's already consistent content! We're excited to help you share more of YOU with the world! If you're ready to fill your feed with eye-catching images and captivating copy to increase your brand awareness and grow your online audience – without all the stress – let's talk.
If this feels like the right help for you right now…check out the Social Media Done for You packages and see which one is your perfect fit. Not sure? You can schedule a quick 15-minute call and we'll figure it out together!
With love and hugs (and NO social media overwhelm!)…