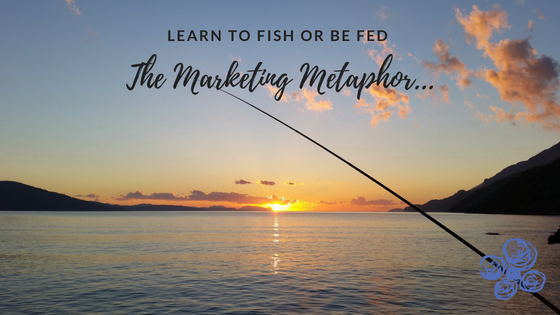 Learn to Fish or Be Fed: The Marketing Metaphor
If you know me, you're probably saying, "When and how did Maura become an expert on fishing?"
Let me explain.
You know the old proverb that says if you give a man a fish you feed him for a day, but teach a man to fish and you feed him for a lifetime? That is the fishing I'm talking about… but in the "ocean" where I AM an expert: Marketing. Sure, I can do it for you, and I love to! But sometimes the best thing for both of us is to share the knowledge and help YOU learn how to market. Especially when you're just getting started.
This could also be called, "Help! I need to find clients and grow my business!" but I digress.
A few years ago, I took a leap. Armed with nearly two decades of experience, the passion to do things with a people-centered approach, and the crazy drive of an entrepreneur, I founded LillaBlu. It was a long-time dream of mine to build my own team – a group of dedicated, talented, fun-loving, creative professionals who share my belief that building, fostering, and nurturing relationships is critical in everything you do in life.
So, instead of setting my sights on the next big opportunity out there waiting for me… I lept in. And there was SO MUCH TO DO!!! I wanted clients. I wanted a website. I wanted business cards. I wanted Twitter, and Facebook, and LinkedIn, and a real name, and a tax ID, and and and…
It was then I realized why the poor fisherman's children have no fish in their belly!
The fisherman is way too busy fishing for other people to even notice! I wanted to jump into the "fun" side of things – marketing my marketing company. But I was so caught up in building the foundation of my business: legal paperwork, accountants, the IRS and the Secretary of State's office… HOLY COW!
Against the odds (and with the advice of many friends and colleagues), I managed to survive those first few months. Looking back, I realized there were a lot of hard lessons I learned and tips I gathered about starting and running the company of your dreams.  Yes, I've been there and I've done that.
There are all the things that a new business needs such as logos, websites, business cards, and the list goes on and on. They are all important and every business needs them. (And I can definitely help you with those things.)
Here are a few of the things I learned:
You need to be ok with less than perfect. Aka Make it work. Don't worry that everything isn't perfect at first…you just need to do it!
You need to focus on the basics…for now.  The business/government/accounting stuff needs to be done and crossed off your list. Plow through it and breathe deep.
You need to make a big deal out of it. Tell everyone EVERY chance you get!
And THAT is where you need to make sure you or someone you trust has your marketing back. Get it all lined up. Make it all work together. Figure out where your target audience is, and make your plans to reach them where they are.
The main thing that I learned is that I didn't need to do it alone. I was fortunate enough to find someone to help guide and support me during this time. Solopreneur doesn't mean you have to do EVERYTHING alone!
But what about that fishing lesson? Are you ready to learn how to market?
Now that I have all these shiny, new business things, what do I do with them? Ah! Now we're talking!
When I started my business I wanted to help people. And I have helped a lot of people and businesses grow and get their messages out to the masses. How could I use my skills and experiences to help other solopreneurs like myself? How could I make marketing fun and easy and provide that support and guidance and mentoring that I received when I started?
That's why I created RPM Sessions: The DWY Marketing Mastermind.
The beauty of this program is that you can do your marketing YOUR way! You can do it so that it's authentically and honestly you. And, you'll have help along the way. What could be more awesome than that?
The best part is you'll learn how to fish!
How cool is that?