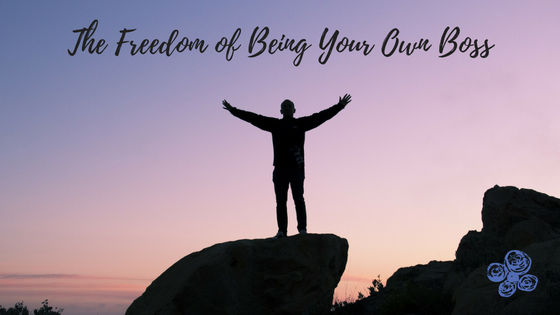 The Freedom of Being Your Own Boss
This week we celebrate Independence Day, July 4th, and being a girl from outside of Boston who loves her freedom, I love soaking up the history and pride that balloons around us at the holiday. I'm not wearing a tri-corner hat to meetings, but I'm simply more aware of the sacrifices so many made and continue to make to afford us our freedoms.
On Friday, I posted a quick little video up on Instagram about how I've been thinking a lot lately about what independence means to me now, meaning at this moment, as a small business owner. It's an entirely different level of appreciation and awareness, and I wonder if it's new, or just more obvious now.
What do I mean by obvious?
Well…I've always been an independent woman. Ask anyone that knows me, and most likely you will get some version of "Maura does what she wants," which I used to think was a negative assessment. And when "Maura did what she wanted" (meaning I started LillaBlu) I felt a freedom that I had never felt before. I was soaring. Seriously.
Little did I know that there was still a lot of change to come…I mean, a lot. I've gotten divorced, sold my house, had surgery, turned 40 (and 41) and that's really just the last 18 months! It might be more obvious now why independence has been on my mind more than usual, but in a good way. One thing all of this change has made me realize, is that I am so grateful that I AM that independent person, and that I had the courage to go my own way and start a business back in 2015.
The act itself is freeing.
Leaving the comfort and security of a 9-5 where someone else is captaining the ship and issuing YOU a paycheck is petrifying and yet freeing. There is something about being completely responsible for your successes, and your learning experiences, that is exhilarating and creates a drive inside that you may or may not have embraced before. But this is it. Embrace it, love it, and definitely soar with it!
What does freedom look like to me NOW?
When I was younger, independence and freedom were represented by different things: getting my license, pushing back my curfew, having a job so I could earn and spend as I wanted, going off to college and being away from my parent's watchful eye…you get it.
Between then and now, freedom has had a few iterations in my life, for sure. But what does it mean now, as a small business owner?
I am free to give my very best to my clients, even if it's outside of our project scope. It's up to me.

I have all the flexibility I need to be both the best mom and best resource for those that work with me.

I am free to have my own voice. Be me. Follow my instincts and do what feels right.

I am free to work from the beach or the pool or a track meet or the barn…wherever life and my girls take me.

I am free to create as much or as little opportunity for business as I want.

I'm free to surround myself with the very best people. The very best team. The very best support to grow my business and have a greater impact.

I'm free to learn and grow, without limit, to always be and do better.

I have the freedom to build my best life. In the work I do. In the life I lead.

And the freedom to know that I can do both. My passion is helping others, and my work and life, in general, come together to do just that.
These are just some of the freedoms I am so grateful for as a small business owner…
Taking the leap!
Diving in feet (or head!) first into launching your own business can be scary. There's no doubt. But if I could give one thing to you, and everyone else who has ever contemplated going out on their own, it would be the reassurance that there is so much freedom and independence in following your passion. The reassurance that you CAN do it. And with the right support and people to surround you on the incredible journey, anything and everything is possible.
What freedoms will following your passion give you?