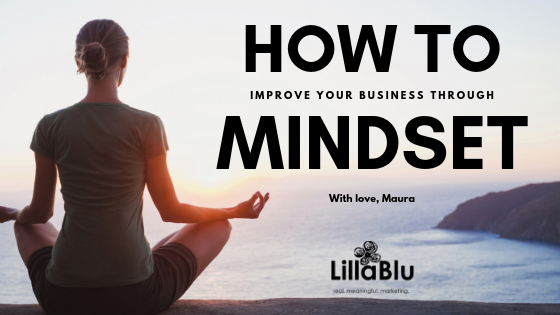 How to Improve Your Business Through Mindset
Last week on Instagram and Facebook we talked all about mindset. All the things, like abundance, money mindset, positivity, and self-care, are part of a joyFUL life. And, from my business running mamma perspective, mindset is SERIOUSLY everything.
I'm writing this reflective blog from the chair at one of my happy places, The Spa at Nicholas Michaels with my girl Joanna. I mean, she keeps me running…
Stick with me for a minute…
Self-care
I have crazy beautiful curly hair. It's big, and it took me the first 30+ years of my life to embrace it. It's also…gray. No joke. It used to be this dark-brown-almost-black-with-natural-auburn-highlights color all on its own…but now it gets some help. Anyway…I am getting close to fully loving the thought of going all gray, but until then…let's just go with my dark brown locks.
Also, I'm pretty much an all-natural girl. I do organic. I make my own cleaner and bug spray. I avoid all kinds of things in the name of health (and preventing cancer from re-invading my body). But…
Every few weeks, I see Joanna for color and a blowout. It's two hours where the sound of the hairdryers and the snipping of scissors is almost meditative. When she washes my hair…Oh. My. Heaven. And I get to have a cup of coffee and work. And sometimes, I take it to the max and flip through a magazine. (Usually, Country Living, Magnolia, Travel & Leisure or something cooking-related!)
This is what self-care looks like this week.
I almost canceled. We were away for a few days early in the week. Then it was my Maddy's birthday and we had a big dinner (read: travel, cleaning, cooking, entertaining). And then yesterday was a lot of wonderful client work and more time in the car…followed by only 4 hours of sleep. The temptation to cancel and get stuff done was real. But I can't really talk about the importance of self-care and not practice it. That doesn't work for me…
But this is why it's important…
When I take the moments to feel better…
When I know what makes ME happy…
When I set the intention to take care of myself and create the positive vibrations by following through on my end…
All good things happen.
It's like when you smile, the whole world smiles back. Sometimes you have to look for it…and sometimes there are people who didn't get the memo…just trust me. It's smiling.
This is what this week has been all about. What's in our heads, and our hearts plays out for us. Here is how I tune-up my mindset and keep the vibe high…even when nothing seems to be going my way…
Growth Mindset
Yet. I love the word "Yet".
Ask and learn. I am surrounded by everything I need. Sometimes all I need to do is ask, and I end up learning the very thing I need. Always learning. Always growing.
Here are five things you can do to have a growth mindset!
1. Find gratitude in the little things.
Oftentimes we just want to find success in our big dreams, but don't take the time to appreciate all of the little wins we have throughout the day.
2. Step out of your comfort zone and try something new.
Starting from scratch or being a beginner again at something can really humble you.
3. Celebrate your failure.
We know this sounds so backward but failure means there's so much room to grow and learn!
4. Surround yourself with inspiration.
Create a vision board, follow the RIGHT people, share positive quotes, etc.!
5. Plan time to learn and grow.
Fill your schedule with webinars, workshops, networking events, and seminars.
Money Mindset
Once we change the way we look at money, our relationship shifts from toxic to positive and OPEN. New opportunities will arise as you are graciously accepting all of the good things coming your way.
This one was actually a bit challenging for me to grasp and accept. I have a few old stories that I spent years telling myself and they really didn't serve me well at all…and sometimes I revisit them if I fall out of gratitude and acceptance.
The one thing I can say is that thinking and feeling the way you want to be in relationship with money leads to believing and creating that reality. It's happened time and time again… but it takes a lot of…
Positivity
I tend to be a little Pollyanna – which can be hard sometimes. Let's be honest… sometimes shit happens. Plain and simple. But it's how we handle that stuff that really shapes the outcomes/results/etc.
How do I stay positive and spread sunshine even when it feels darn near impossible?
Gratitude. Always. For everything.
There is always something positive…somewhere.
Smiles are contagious!
Creativity and passion will spark motivation, and Vice versa.
Clients, revenue, and other goodness will come your way!!!
Abundance
Seeking abundance is not greed or gluttonous. Abundance, by definition, is a large quantity of something. Plentifulness of the good things in life. Prosperity.
Abundance is not a bad thing!
My hurdle that I honestly still wrestle with every now and then is that it's bad or wrong to want abundance. That's a belief that I picked up when I was little, and one that adult me knows is false.
From the time we're young we're taught not to be greedy or want more. We're told to work hard and accept the life we have. We believe that we don't deserve more or everything we want. Abundance means there's enough to go around for everyone. Yes, even YOU!
Here's the thing… abundance helps us bring more of our purpose to the world. It helps us do more and serve more and support more. It supports us as we spread joy and peace and knowledge and whatever other goodness we're sharing.
So how can we create this abundance?
One way I love to keep my mindset tuned up for abundance is to daydream (or you can call it visualize).
Visualize the life you're creating as if it already is…
One of my dreams is to live on the water. Ocean or lake doesn't matter…but I will be there in 6-7 years.
Recently, I've been spending a lot of time focusing on the time we spent at the lake a few weeks ago. How it felt to wake up on the water, to sit quietly and meditate on the dock, with the water lapping onshore.
It's not happening tomorrow, but the more I keep my eyes on the prize so to speak, the more real it feels. The bigger my visions for my business and my life get, and the closer I am to my dreams becoming my reality.
So my friends, when it gets tough, AND when it's all rainbows and gluten-free cookies… our mindset matters. If you need a positive spark, we've got you. If you have gobs of high vibes to share, spread the goodness!
How do you keep your mindset focused on positivity, growth, abundance and all things good? Tell us!
With love,