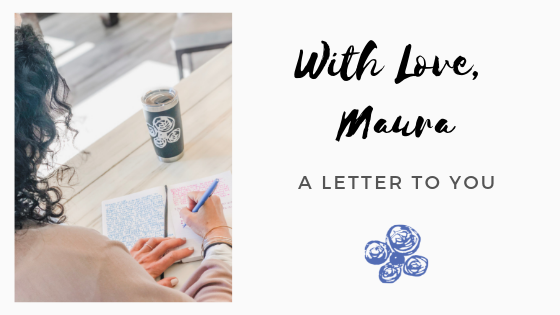 A Letter to You, Amazing and Overwhelmed
Dear Amazing and Overwhelmed,

Yes, you. The one who's got it all going on. I mean all. of. it.

Your business. Your kids. Your needy clients. Your software and programs. Your taxes and bills and all kinds of reporting.

All. Of. It.

It's Q2, folks. Three months have already gone by…You're staring at your tax bill, and your quarterly payment.

And you're feeling…meh. Or worse.

Those plans you created – where did they go? Why didn't anything happen?!?

Your clients are quiet, and there aren't any new ones in sight.
Your social media posting is sporadic at best, and your MailChimp account is a bit dusty.

But your days are SO. DARN. BUSY.
WTF?

You KNOW you can do this.
You KNOW you do amazing work, and your clients LOVE what you do for them, AND they love working with you.
You KNOW you need to be more visible and engage your clients, and your future clients, more.
You KNOW there's so much to do, some of it you get, and other stuff you don't.

It's all a bit overwhelming, isn't it?
#TRUTHBOMB:
YOU control how much money you make by how much marketing you're willing to do.

The thing is…you DON'T KNOW where to start.

I completely get it. There's so much.

I was a marketing director. Leading a team doing some pretty amazing marketing. We're talking 300% growth in one year kind of amazing.

And then I started my own business. By myself. I had so much client work to do, that I struggled to find the time to do my own marketing. I couldn't figure out what to do first with the seemingly little time I had. I was paralyzed by thinking that I couldn't do it all and that doing nothing was a better option.

And then it all changed.

I remembered what it was like when I had a team around me – I got support. I started working with a marketing and business coach. I became one with strategy AND implementation. I found my tribe of like-minded entrepreneurs doing the same thing.

And it all started with a little FOCUS.

——-

This spring, I'm hearing from you that 2019 has been challenging so far. The year is off to a sluggish start, and you NEED Q2 to pick up already.

But you just don't know what to do, in the limited time you have, that will make an impact.

I've got YOU and what you need – Focus90.

90 minutes of intense problem solving, masterminding, strategy, and action planning that will light a fire in you, and change the meh of Q1 into a HECK, YEAH, Q2!

These 90 minutes will kill that overwhelm, you'll get the support you deserve, and we'll co-create an action plan that you can't help but execute ASAP.

I'm here to support you, and help make the rest of 2019 absolutely incredible.

Sign up for your Focus90 today.

I've got you. Let's do this NOW. Together.

Love & Hugs,