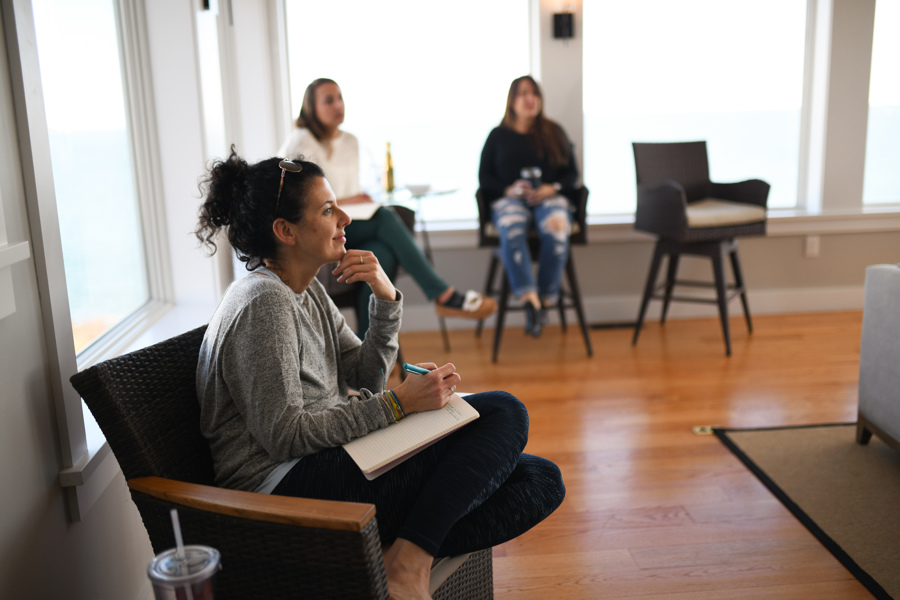 For the mindful entrepreneur looking for high-impact results in a short time-frame, with a combination of 1:1 and Group coaching support.
6-month High-Impact Mastermind for Mindful Business Owners
Begins February 2022***
$9,000 (6 payments of $1,500) - PIF Incentive available ($7500)
You're doing the things you "need" to do. You're driven, checking off the boxes brings you joy (I feel you!), business is going well. AND...something isn't right. Something is in your way. 
We untangle that.
You are overwhelmed by all the tactical to-dos of running your business - from packaging and pricing to scaling and hiring or outsourcing, and you have a hard time with the practical aspects of marketing your business in a way that feels good - and RIGHT - to you. 
We untangle that.
We cultivate your confidence by understanding what works and what doesn't in both the tangible aspects of business and marketing, and the mindful, magical side of it...and you. 
We celebrate, clarify, and create - that's how we work. We map out your action-inspired implementation and then we do it again. It becomes your cycle. Your practice. Your work, your joy, and your success. 
This unique mastermind is a combination of an intimate, passionate group of peers sharing their knowledge and experience, encouragement, accountability, and support AND 1:1 coaching for focused growth and action. It's the best of both worlds.
If you are determined to
Increase revenue

Grow consistently

Be more visible, and comfortable doing it

Connect and engage with your audience

Expand your capacity without overwhelm or "doing" more

Identify, acknowledge, and clear away what's holding you back

Build your business in a mindful, sustainable, just-for-you way
You are ready to untangle.
Features
1x 60 minute 1:1 kick-off strategy session (recorded)

18x 90-minute Group Mastermind sessions (3 each month - 90 min each)

6x 60-minute 1:1 Coaching sessions (1 per month)

Mindful Marketing Workbook ($47 value)

M-R Slack Support Hours

Marketing: Untangled discount available for other LillaBlu events and retreats
Sign up by Dec 31, 2021, and enjoy Bonus calls in January. Spread payments over 8 months

Small Business Weekend Bonus: Additional 1:1 Coaching Call with Maura during December (Saturday, November 27- Monday, November 29) and spread payments out over 9 months
Questions!
So...what IS this mastermind?
It's the group that, with its collective experience and creative intelligence, will drive each individual member forward as they grow and reach their goals. With no more than 10 members, each member gets a "hot seat" or the attention and focus during each weekly call, and of course, each month has one whole hour 1:1 with Maura to dive deep into their personal goals, blocks, and anything else impacting life and business!
What will we cover? What will I learn?
We'll tackle everything from messaging and branding, to packaging and pricing, from creating new offers and closing out ones that no longer bring you (or your clients) joy, to scaling your programs and leveraging team members (hiring!!!). We'll dig into how to handle it when things go wrong and even what to do when things go oh-so-right! We'll talk about CEO days, what they GET TO look like, when they should be, and WHY you won't grow your business without them. So. Much. Social Media. We'll talk a LOT about play, and constantly remind ourselves to do it!
All. The. Things. 
There is no one checklist when you're running a business. We tackle what YOU'RE dealing with WHEN you're dealing with it...and by masterminding, you'll learn about how to do all the other things we dig into for the others, too.
Marketing: Untangled is YOUR people.